Six years ago, I got a crazy idea in my head: I was going to start an online writing community for freelancers, where they could learn how to market their services and earn more.
When we opened the doors in 2011, I had no clue how needed this sort of all-you-can-eat learning platform was for freelance writers.
Next week, Freelance Writers Den turns 6 years old! And it's over 1,000 members strong.
At this point, the Den is packed with 300+ hours of trainings members can access anytime, on everything from how to do lucrative types of writing like white papers, to how to find better-paying clients.
Curious about the Den? Well, we're celebrating our 6th year by opening the doors and welcoming new Denizens on our anniversary date, July 11. We'll stay open for six days (unusually long for us!).
And we've got a new way to hop in the Den — you can try it out with a 1-week free pass.
We always do giveaways and goodies on the Den anniversary, but this year I want to go crazy.
So besides free 1-week passes for all comers, I'm also giving away 6 free, 1-YEAR passes to Freelance Writers Den.
That's right, an entire year of soaking up the Den resources, 4-week bootcamps included, the works.
How can you win one of those 1-year passes? I'm holding an essay contest. Read on for the rules:
Essay contest rules
Here is the essay question that can win you a year in the Den:
What are you willing to sacrifice to become a successful freelance writer?
Why this question? Because claiming an independent life usually requires you to give something up. It's not an easy road — but it's worth it. So…how bad do you really want this? Tell me in your essay.
Here are the details on where to post and how to win:
One entry per person. Multiple entries will disqualify you.
Limit 300 words.
You can post your essay in the comments below (I've turned them on, just for this post!) or on my Facebook page (look for the post with the graphic you see on this post).
Current Den members are eligible to participate.
Winner will be announced the morning of July 12. I'll email the news to subscribers, and update this post and my Facebook.
Is my online writing community for you?
Maybe you're new here and not familiar with the Den. If so, recommend you visit the Den home page and watch the video that goes through all our member benefits.
We serve new, returning, and mid-career freelance writers around the world with 24/7 forums, monthly live events, podcasts, an exclusive job board, and training resources galore.
It's been a thrill to serve so many writers, and to create a platform that makes freelance knowledge affordable for the hungry writers who need it. And it's still early days! Great trainings are coming up later this year and next.
Good luck, everyone! And hope to see you in the Den.
What are you willing to sacrifice to become a successful freelance writer? Post your answer in the comments below (turned them back on, just for this post!), or on my Facebook page.
UPDATE: Winners have been chosen! Congratulations to:
Thanks to everyone who entered – it was HARD choosing winners from the avalanche of entries!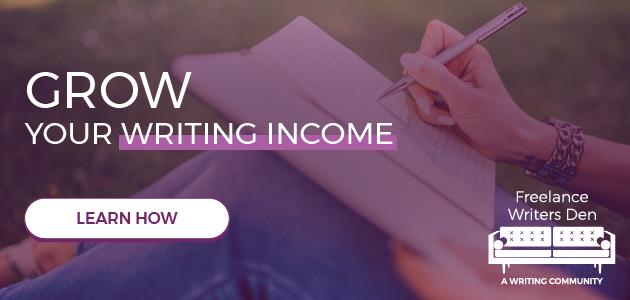 Save