Does your letter of introduction (a/k/a a pitch letter) have the right ingredients to make prospects open your email, salivate over your writing skills, and hit 'reply'?
It should. Writing a letter of introduction to a prospective client is a great marketing strategy for freelance writers. The more you reach out to prospects, the more likely you are to get paid to write.
But if you don't include the right ingredients in a letter of introduction (LOI), it can turn out like a failed recipe nobody wants to eat.
Think of writing an LOI like you're competing for the $10,000 cash prize on the reality TV cooking show Chopped.
Your letter of introduction needs to have specific ingredients to catch the attention of a prospect, provide a taste of your writing style and personality, and include just enough on the plate that prospects will ask you for more.
Want to know the recipe for writing a tasty letter of introduction? Here's the list of ingredients and directions:
Spice up your letter of introduction
Inside the Freelance Writers Den, you can submit a letter of introduction for review and get feedback from pro writers and editors to help you improve it. And every critique is based on a recipe for writing LOIs that get results.
In 2017, I was the lead editor who took a look at about 100 LOIs in the Den. And many of the writers found the critique process for writing better LOIs helpful. For example, Katie S. said:
"Wow! Your advice helped me see the areas to add more detail and oomph to my pitch! I have never worked so hard on an email – now I know why I did not get responses in the past. Thank you, thank you, thank you!"
If you haven't written a letter of introduction before, or you're not getting any bites from the LOIs you are sending out, you need a better recipe.
LOIs share a few common ingredients
Learning to write an effective LOI is a lot like learning to bake cookies. Most cookie recipes share a few common ingredients. But there's literally thousands of different ways to put those ingredients together to make something sweet.
Here's an example of an LOI that landed me a $4,000 gig writing a series of 10-question quizzes for a life insurance company:
Hi Janel:

What's my Health IQ? I like to think it's pretty good. But the proof is in the pudding (uh, sugar-free and made with skim milk, of course).

So I took your Health IQ assessment, and scored a 180/200 (see screenshot of results.). And your algorithm says that I scored better than 297 million Americans. That makes me feel pretty damn good, because I know eating healthy, and getting enough exercise and sleep, especially with three little kids at home, is a take-it-one-day-at-a-time kind of challenge.

My name is Evan Jensen. I'm a freelance writer. Are you still looking for writers to help produce content for Health IQ?

I specialize in writing about health and wellness, fitness, nutrition, chronic disease, and preventive medicine. I have a master's degree in journalism and experience writing for hospitals, wellness programs, gyms, personal trainers, and health professionals.

Check out some of my samples:
– 5 Resolution Solutions for Health and Fitness
– Get Your Gobble on with a Healthy Game Plan
– Health Challenge – Get Your Zzzs

But it's not just all work and no play for me. I've finished 30-plus marathons, some 50-mile races, and six 100-mile ultramarathons. I eat healthy, lead a weekly running group, take a daily multi-vitamin, and know my way around the gym, too.

Still looking for a freelancer to tackle Health IQ projects? Let me know.

Out for a run,
Evan Jensen
Now, let me break this LOI down into its key ingredients, so you can write one just as tasty:
Ingredient 1: Customize the introduction
You've found the contact info for an editor or marketing manager at a trade pub or business. And you want to send an LOI. Now what?
Get the prospect's attention. Show them you've done your homework. A good way to do this is mentioning something specific about the prospect like a:
Recent blog post
Press release
News story or interview
Certification or award
Promotion
I scored my best freelance client in the fitness niche–worth about $20K a year– with an email that started with, "Hey Bro, I saw your 'Get Huge Arms' workout and pics on Instagram."
Directions: Point out something specific about a prospect and offer a brief comment or compliment (but no over-the-top brown-nosing, which will spoil the recipe). Aim for one to two paragraphs.
Ingredient 2: Customize your bio
You want your prospect to know you've got the chops to write for their business, blog, or trade pub. Introduce yourself as a freelance writer early on in your LOI. And include a customized bio that's no more than a couple of short sentences.
In other words, don't serve up a résumé, comprehensive work history, or long-winded explanation of your freelance writing career. These ingredients will spoil the recipe, too.
Directions: Think of your writer bio for an LOI like an elevator speech. You should be able to explain what you do as a freelance writer in just a couple sentences. Then, customize it for every LOI you write, so its appetizing for that particular prospect.
Ingredient 3: Show off your personality
Ever eaten something so bland your taste buds demand peanut butter, ketchup, salt, or some other kind of seasoning, just to make it palatable?
Those flavorless rice cakes are like that, and so is an LOI that's devoid of personality. If your LOI looks too much like a cookie-cutter template, you're not going to get as many bites.
But if you go with the gourmet LOI that shows off your personality in a way that resonates with your prospect's audience and brand, you're a lot more likely to:
Get a response
Start a conversation
Increase engagement
Build a relationship
Land an assignment
Directions: Avoid using bland, boring, and business formal language in your LOIs. Be real. Be you (smart, funny, ambitious, sarcastic, whatever). If you sound like a nice person to work with, and you've got legit writing skills, you'll get a bite. Or at least get put on the list of possible future dishes to enjoy by your prospect.
Ingredient 4: Encourage engagement
Mix together a well-written introduction and bio with personality, and you've got one more ingredient to add: Engagement.
Get a client thinking about their content needs, upcoming projects, or even content-related headaches, and you can be the solution.
Think of ways you can engage a client with thought-provoking questions or a direct call to action in an LOI, like this:
Do you need help with your blog?
What upcoming content projects do you need help with?
Need help from a freelancer until you fill the full-time position?
What articles do you need to assign for the upcoming issue?
Check out some of my samples (and include links to relevant clips)
Can we set up a 10-minute phone call to talk about your content needs?
Hit reply, send me a message, and we'll go from there.
Directions: In your LOI, ask your prospect a couple of thoughtful engagement questions or include a direct call to action.
Extra ingredients
Combine these four basic ingredients, and you've got the right stuff for an effective LOI. But there are a few extra ingredients to consider to top off your creation:
Email subject line sauce. Like it or not, your well-written LOI may never be seen if the email subject line isn't tasty enough. "Freelance writer for hire" is pretty bland. It might work if the email shows up at just the right time, or your contact only receives a handful of emails a day. But it's just not as clickable as something a little more curious. Take a little time to add some click appeal to your subject line.
Signature sign off. Linda Formichelli recommends this ingredient for LOIs and queries. Instead of the stand-by "Sincerely," come up with your own signature sign-off to close your LOI. It's one more way to stand out and help a prospect remember you. Carol Tice signs hers with "Enjoy!"
A dash of frequency. LOIs can be a highly effective marketing strategy to grow your freelance writing business. But you need to do it consistently. And you'll probably need to send out a lot, at least at first. Set a goal for sending out a certain number of LOIs a week. Track your progress, open rate, and assignments, to find out what works best.
LOIs: A recipe for freelance success
When I started writing customized LOIs (I tried template mass emails), my response rate jumped to an average of 50 to 75 percent. I booked more client work. I raised my rates. I figured out a recipe to move up and earn more as a freelance writer. And so can you.
Need help with writing a letter of introduction? Let's discuss on Facebook or LinkedIn.
Evan Jensen writes about health and fitness for hospitals, gyms, personal trainers, and wellness programs. He's also the blog editor for Make a Living Writing.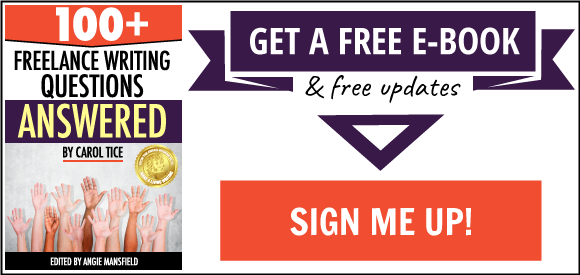 Save
Save